How it works
What is LeicsGO and how does it works?
The idea behind crowdfunding is simple: a lot of people, all making a small gift, can collectively fund something amazing. LeicsGO is the crowdfunding platform for student clubs, teams, groups and societies at the University of Leicester. On LeicsGO, students post their projects, and sponsors – friends, family, supporters and colleagues – pledge to help fund them. To help this process along, Creators can offer rewards in exchange for pledges. Money only changes hands when a project achieves at least its minimum funding target. 10% of the first £500 raised on each project will be invested into the Leicester Endowment, a fund supporting student opportunities including the costs of this crowdfunding platform, scholarships for students from disadvantaged backgrounds, and much more. The rest is yours. We'll also match pound-for-pound up to £500.
What is the Leicester Endowment?
The Leicester Endowment is an unrestricted, permanently endowed fund which provides a stable, ongoing source of income for University priorities. Permanently endowed funds are intended to grow over time, so in most cases the principal cannot be touched, and only a portion of income and interest generated from the endowment is spent each year. The Leicester Endowment supports student projects, initiatives, scholarships and facilities, as well as providing urgently needed funds for students with financial hardship.
Why are you taking 10%?
The LeicsGO project was made possible by a major gift from a very generous alumnus of the University. He is passionate about growing student opportunities and ensuring that they are sustainable and he – like us – believes the best way to do this is through the Leicester Endowment. Re-investing a small percentage of the money raised on LeicsGO will ensure we can continue to offer student crowdfunding and other opportunities for future generations of students. Remember: we cap this 10% investment at a maximum of £50, regardless of how much you raise. Please also remember that the University matches what you raise pound for pound up to a maximum of £500. You would have a tough time finding a deal this good on any other crowdfunding platform!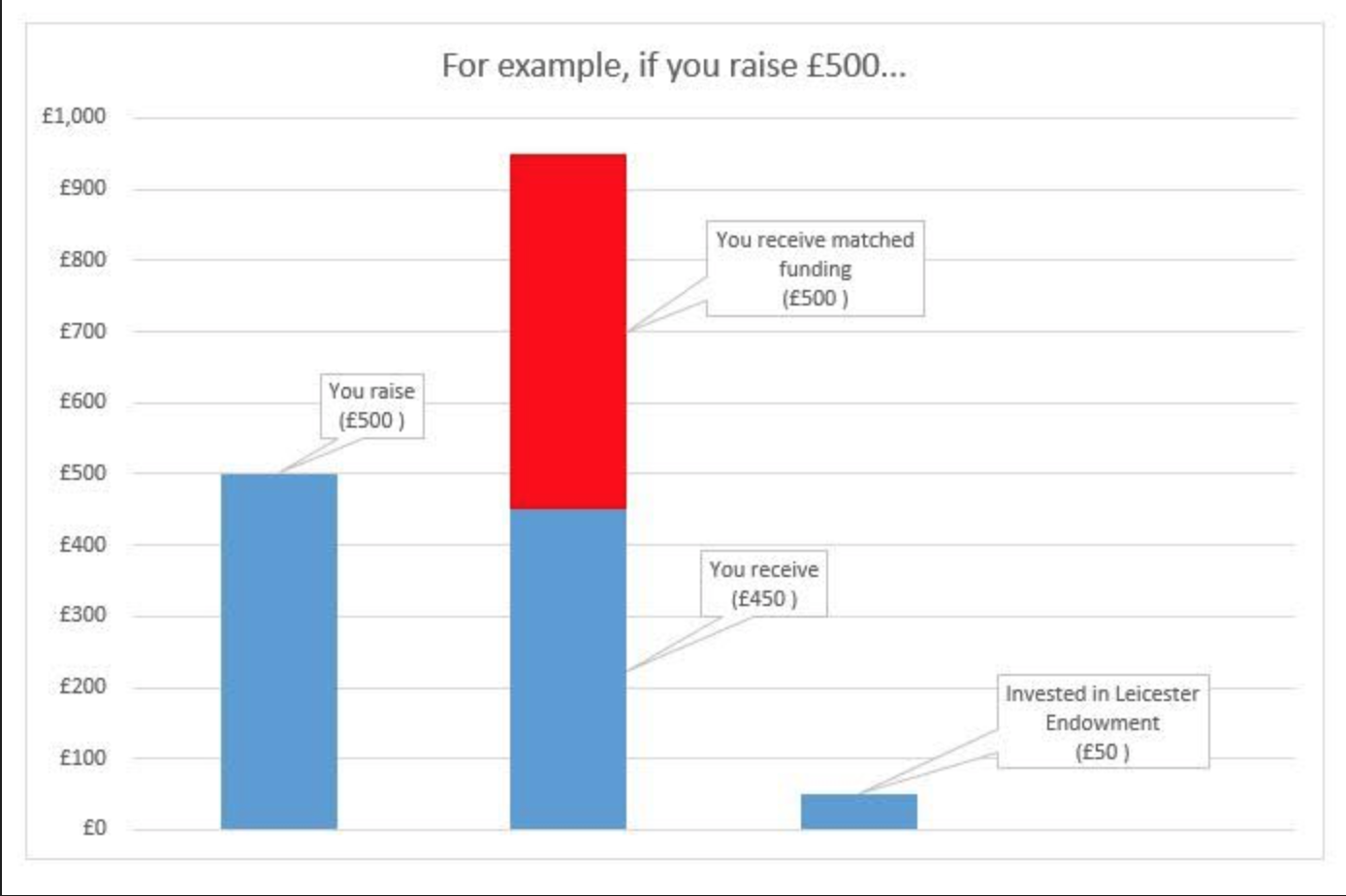 Setting Up & Running Your Project
Who can be a Creator?
LeicsGO is for clubs and societies affiliated with the University of Leicester Students' Union. Any member of an SU-recognised society or club can create a Project for their group.
How many Creators can I have on my project?
There can only be one Creator account per project, but you should definitely get help from your friends and other society, club or group members to help create and promote it.
What types of project can I post?
Is your sports club in dire need of some new equipment? Are you part of a drama society wanting to fund your latest theatrical production? Have you been invited to take part in a tournament, but need the funds to get there? Projects can be pretty much anything, as long as they provide value to your group, your fellow students, the University of Leicester or our wider community.
Are there any rules or regulations I have to follow?
All the University of Leicester's rules are outlined in this FAQ. In addition, you must read and follow this Online Fundraising Advice & Guidance from the Fundraising Regulator: https://www.fundraisingregulator.org.uk/more-from-us/resources/online-fundraising-advice-and-guidance-public. You should familiarise yourself with the Fundraising Code of Practice – not all of this will apply to you, but some of it will and it is extremely important to comply with the Code. It can be read here: https://www.fundraisingregulator.org.uk/sites/default/files/2019-06/code-of-fundraising-practice-october-2019.pdf.
Is there any type of project I can't post?
Currently LeicsGO is only available for ULSU-recognised groups. Therefore, projects by individuals will not be accepted. Additionally, you cannot use LeicsGO to "fund your life" (pay rent or tuition fees, fund your coffee habit, etc.) or to raise money for third-party charities. If in doubt, please contact us on leicsgo@le.ac.uk and we can advise you.
I'm raising money for charity. Can I post on LeicsGO?
Sorry, no. The University of Leicester and the University of Leicester Students' Union are registered charities, meaning that using this platform to fundraise for other charities is prohibited. To raise funds for a third party, you may want to consider a site such as Crowdfund Leicester – which is specifically for Leicester community projects, some of which attract matched funding – or JustGiving. However, funding the core costs of putting on a charitable event – such as a concert, sports game or quiz night – is permitted. In this instance, funding for the costs of a charitable event will not be matched. Donations to these projects are also not eligible for Gift Aid. This must be made clear in your project blurb.
How much can Creators raise for projects?
Creators can raise funds for projects of any size they wish – there is no minimum or maximum! As a guideline, most successful projects set their minimum target between £500 and £2000, but you must decide what's right for you.
What is all-or-nothing funding?
All-or-nothing funding means the project must achieve its minimum needed pledges by its completion date, or no funds or rewards change hands. Why? Because if a Creator promises to complete a project that needs at least £2,000, it would be tough for them to do it if they only raised half this amount.
I just need general sponsorship to cover my society's costs for the year. Can I post on LeicsGO?
Just seeking "sponsorship" or covering your group's core costs doesn't really constitute a project. However, that doesn't mean you can't turn it into one! Think about how you could break this down for potential sponsors. How will you spend the funds? What will they allow you to do that you couldn't do otherwise? Over what period will the funds be used? Be specific!
What happens after I submit my project?
We will check your project over and, assuming there are no concerns, it will normally be live within two working days. If it doesn't meet the guidelines outlined here, we will contact you and give you the opportunity to edit it. Once your project is live, then it's up to you to promote it!
Are a minimum needed, funding target and completion date required?
Yes! The minimum needed, funding target and completion date are all chosen by you. If you have achieved your minimum needed by your completion date, you'll get your money (via the Students' Union.) You are then responsible for carrying out your project and delivering any promised rewards. If you do not reach your minimum needed, no money changes hands. You can set your minimum needed at £0 if you believe you can carry out your project irrespective of the amount your raise!
Can I raise more than my minimum needed?
Yes. Your minimum needed is the lowest amount you need in order to carry out your project. If you raise more, great!
What happens if there is still money left over after we've completed our project?
We encourage you to think carefully about how much your project will actually cost, so that you're not left unexpectedly short of cash or with a huge surplus. When submitting your project, you are required to outline briefly what will happen to any leftover funds. You might talk about ways you will improve your project if you have more funding than anticipated (buying better equipment than planned, involving more people, providing freebies or refreshments at your event, etc.) You can also simply say "in the unlikely event that we have surplus funds after this project is completed, they will be reinvested into the general running costs of [Society.]" Remember that, as per the terms and conditions of using LeicsGO, you are not permitted to use funds raised through the platform for purely social activities, nor are you permitted to give them to third party charities.
What happens when my project completes?
Assuming you reach your minimum target by your deadline, the Philanthropy, Alumni & Community Engagement (PACE) office will process your pledges and transfer your money, plus any matched funding, to the Students' Union – who will then pass it on to you via your club or society bank account.
How long will it take to receive my funds?
Funds are processed by PACE at the end of each calendar month, and will normally take 2-3 working days to reach the Students' Union. You should be able to get your funds via the Students' Union very shortly afterwards. At most, for example if your project completion date is in the first week of the month, you may be waiting up to 4 weeks to receive your funds – but it will usually be quicker.
What happens if funding is completed before the completion date?
Nothing! There isn't an option to end a project early, and pledges are only collected at the completion date. We allow sponsors to continue giving even after your target has been reached, so you could generate more. Compelling projects with great rewards sometimes achieve many times their funding target!
Can I retry if unsuccessful?
Yes. If you didn't reach your minimum target, you can re-submit your project as many times as you like. However, we recommend that you make some alterations. Why weren't you successful last time? Would a different funding target or completion date help? What about better rewards or improving your promotional blurb?
How many projects can I post at the same time?
Technically, as many as you want. However, we really advise not running more than one project for the same group at the same time. Sponsors are unlikely to pledge several times to the same person or society in a short space of time.
How does matched funding work?
The University will match the total funds raised on all eligible projects pound-for-pound, up to a maximum of £500. The exception to this is in the instance that you are raising money to put on a project or event which will benefit a third-party charity: in this case, funding will not be matched.
Where does the matched funding come from?
The money for LeicsGO matched funding comes out of the Annual Fund - unrestricted funds given by generous alumni of the University to be used wherever the need is greatest, including supporting student opportunities and activities.
Do I have to report back to the University on my project?
We do ask you to report back – we want to know what you've been up to and how LeicsGO has helped you. Three months after successful funding of a project, we will check in with the project leader by email to see how things are going. This is not about "checking up on you," and you do not need to fill in long reports or submit itemised budgets. We simply ask for a quick progress report and, if possible, some pictures or quotes that we can use for future case-studies and for promoting LeicsGO and student opportunities at the University.
Rewards
Do I have to offer rewards?
No. Offering rewards is one way to help potential sponsors to engage with your project and to encourage pledges. Remember, you only need to deliver your rewards if your project reaches its minimum needed and after you have received your funding. This means that the funds you receive will cover the cost of rewards. Make sure you offer a reward that you can definitely deliver, and which won't be too time-consuming or onerous for you. If you promise a reward and your project is funded, you must follow through!
What can be offered?
This is up to you. Rewards are typically items connected to the project itself – a copy of a CD recorded, a copy of a magazine, a ticket to a show or concert. You could also offer a mention on your website, in your magazine, or at an event. We recommend keeping rewards as simple as possible, and offering only one or two options – as well as the option to pledge without receiving a reward, for sponsors who just want to support you. Easy-to-deliver reward options include a ticket to your next show or game, a signed photo from the team, a handwritten thank you card, or a shout-out on your social media. Please note that in order to be eligible for Gift Aid, the reward needs to be worth 25% or less of the total value of the donation (e.g. a £5 donation would only be eligible for Gift Aid if the reward was worth £1.25 or less.)
What cannot be offered as a reward?
No alcohol, drugs or pornography please! Investments, loan solicitations, cash rewards, coupons or discounts on future goods, raffle tickets and entries to lotteries or sweepstakes are also forbidden. Other than that, we reserve the right to forbid on a case-by-case basis the offering of any reward that we feel compromises health and safety, the integrity of the project or group, or the reputation of your group, the Students' Union or the University of Leicester.
Can I limit the quantity of a reward?
Yes. When you add a reward to your proposal, you will be asked to specify whether it is in limited supply and, if so, how many you are able to provide.
How can I get sponsors' information to give them their rewards?
We will collect all of the information you need and make it available to you after your completion date if your project is successful. Please remember that it is strictly forbidden to use this data for any other purpose (including future fundraising asks,) and you must destroy or delete it after you have delivered your rewards.
Why doesn't the number of sponsors on my page match the number of rewards?
Sponsors have the option to select a reward beneath their pledge level or to select no reward at all.
Project Media
Do I have to make a video?
No, but a video is highly recommended as it greatly improves your chances of achieving your funding target.
Can I add a video later?
No. You can't edit a project after submitting it.
Any advice on what makes a great video?
It's easier to make a great video than you think! Your video should be short (2 – 3 minutes at most,) and should clearly outline what your project is, what it would mean to you to be able to carry it out, what benefit it will have and to whom, and why people should support you. Keep it light, positive, and try to include some humour! Ideally, your video should contain some relevant action, not just people talking to the camera – a clip of your rowing team on the water or some rehearsal footage from your drama group, for example. You can borrow AV equipment from the Students' Union, but many smartphones now have cameras of a high enough quality to record a short video.
What types of video can I use?
Vimeo or Youtube videos are fine.
How large can my video's file size be?
Vimeo's basic account has a limit of 500mb per file and 5GB for premium accounts. Youtube has a limit of 2GB.
How many videos and images can I have?
Your project can only have one video, but you can use as many images as you like! You just need to enter the web address of the image in your project description.
Can I use music on my video?
Yes, but only if you have permission to do so from its owner! Alternatively you can use any music from http://freemusicarchive.org/
Can I embed media?
You can embed images in the description section of your project, but not videos.
Updates, Editing or Cancelling My Project
What are updates?
An update lets Sponsors know about developments in your project and how you're getting on. They breathe life into your project and are essential to the sponsorship process.
What media can I use in updates?
You can add images, but not videos.
Will sponsors know if I've posted an update?
Yes. We will notify them automatically.
Can I edit my project after submitting?
Sorry, no. We can't keep reviewing amended projects and we feel this allows too much room for Creators to change the deal after sponsors have made pledges. However, you can add updates to your project once it's published so that sponsors can keep up to date with how it's going.
Can I change my minimum target, total funding goal or completion date after submitting?
No. It is not permitted to edit your project after submission.
Can I edit my project after funding is completed?
No. If we allowed this, Creators would be able to raise money for one purpose and then spend it on something different. This isn't fair on your sponsors.
Can I cancel my project?
We'd really like to encourage you not to! Cancelling projects undermines trust in your group and in LeicsGO as a whole. However, if you really must cancel, please email leicsgo@leicester.ac.uk. We will remove your project from the site and inform your sponsors.
Promoting My Project
Where can I find Sponsors?
Finding sponsors is vital if you are to achieve your funding target. Your sponsors are likely to be your friends, club or society members, fan, family members, and other students and staff at Leicester. You should use social media, word of mouth, and your e-list or newsletter if you have them to promote your project. The best way to attract sponsors is to have an exciting project – but people can only support your project if they know about it!
Can I share my project with friends before I submit?
Yes, in the sense that you will be able to discuss what you're doing with people online and via word of mouth. However, you will not be able to send people a link to your project in draft mode (though screenshots are possible).
Where can I get advice on crowdfunding?
There are loads of helpful tips and articles online. Just search "crowdfunding tips." If you need any more help, contact Jess in the Alumni team via leicsgo@leicester.ac.uk.
Can the University or Students' Union promote my project for me, for example on official social media or through alumni networks?
Sorry, no. We can't support some projects and not others (this wouldn't be fair!) and if we put everyone's project out via our official channels, our followers would soon get fed up! For data protection reasons, we are also unable to share alumni contact details with you for the purposes of asking for their support. It is your initiative and creativity which impresses your sponsors, not us promoting it for you. Of course, if you have your own society social media channels or access to your club's alumni network, there's nothing to stop you using these to find sponsors. Please remember that University of Leicester alumni are already supporting you via the Annual Fund, which is where your LeicsGO matched funding will come from.
Can I pledge to my own project?
Yes, if you wish! Because the project benefits your society, the Students' Union and/or the wider community, it is fine to donate to your own project. This would not be permitted in the instance that the project primarily or exclusively benefited you as an individual.
Account Settings
Can I change my profile name?
Yes. Make sure you're logged in, go to 'account', and click on the 'edit profile' button.
I forgot my password. How can I log in?
Oops! You can reset your password by clicking the 'reset your password' link on the login page. You will be sent an email which contains a link to reset your password.
How do I delete my account?
Please contact us on leicsgo@leicester.ac.uk to delete your account. We'll miss you!
Can I change my email notification settings?
You will only receive emails about projects which you are following. To stop receiving these, go to the project page and click the 'Follow' button - when the pink heart disappears, you won't receive email updates.
Fees
Does Stripe charge any fees for credit/debit card payments?
Stripe applies a fee of 2.4% + 20p for every gift made to successful projects. However, the University of Leicester covers all Stripe fees associated with LeicsGO.
Does it cost anything to post on LeicsGO?
No. Not a penny. The University pays a set annual fee to Hubbub (the company that built and powers LeicsGO) for the platform. Apart from the 10% investment to the Leicester Endowment (to a maximum of £50,) you will receive 100% of all pledges made to your successful project, plus the pound for pound match from the University.
GiftAid
What is GiftAid?
Gift Aid allows registered charities to claim back 25p from the Government for every £1 given by an eligible person. As the University of Leicester is a charity we can claim Gift Aid on gifts made through LeicsGO. The donor must be a UK taxpayer in order to qualify for Gift Aid.
How can I add GiftAid to my project?
All sponsors will be asked automatically if they wish to Gift Aid their pledge. Gift Aid on gifts made via LeicsGO are retained by the University of Leicester and go directly into our Greatest Need fund, which includes paying for and maintaining LeicsGO, (covering Stripe fees and the cost of the platform itself.) Please note that Gift Aid will not be received by the individual student groups fundraising on LeicsGO. This will be made clear to donors at the time of pledge.
Responsibilities
What if I can't complete my project as listed?
If this is the case you must cancel your fundraising immediately. However, please be aware that this could damage the reputation of your group or society and make sponsors less likely to trust you in the future, so please do not do it lightly. You can cancel a project by letting us know (see above) and we will notify your sponsors and cancel all pledges.
What if I find I can't complete my project after we have been successfully funded?
You must inform us immediately and we will decide on the most appropriate course of action to take. This may include returning some or all of your funding.
What if I can't deliver a reward?
Please be absolutely certain that you will be able to deliver any rewards you promise before your project goes live. However, we understand that occasionally things can go wrong. If you find yourself unable to deliver a reward, get in touch with your sponsor(s) immediately (via the "contact all sponsors" function.) Creators who are honest and open will find sponsors to be far more forgiving. You may be asked to offer a different reward in place of the one you cannot deliver.
FAQ for Sponsors
Can I be a sponsor?
Yes. Anybody (student, staff, alumnus, friend, family member or member of the public) can be a sponsor. You will be asked for your details when you pledge to a project.
How do I make a pledge?
Simply find a project you like and hit the 'Sponsor This Project' button on the right-hand side of the page and follow the on-screen instructions.
When will I be charged?
Your card account will be charged after the project fundraising deadline (usually the same or next day,) but only if the project achieves its minimum needed by this date.
What happens if a project does not achieve its minimum needed?
Nothing! No money changes hands. This is all-or-nothing funding. If the project is unsuccessful, you will be notified and your card will not be charged.
Can I pledge anonymously?
Yes. When you make a pledge you will be given the option of displaying either:
Your name and the value of your pledge
Just your name
No information – you remain anonymous.*
*Please note that you will not be anonymous to the University and the project Creator – only to the public. Creators see your username, full name, the size of your pledge, and the reward you've selected. If their project is successful, we'll also give the Creator your email address or delivery address if applicable, so that they can contact you regarding your rewards. See our Privacy Policy for more on how Creators and the University of Leicester will process your data.
Is the value of my pledge made public?
Not automatically. We leave it entirely up to you to decide whether your name and contribution amount should be displayed as described above.
Will you notify me if a project I'm sponsoring is successful?
Yes. You will receive an email to let you know whether the project has been successful or not.
Can I change my pledge?
You will not be allowed to amend an existing pledge but you can add another one.
Can I cancel my pledge?
When you make a pledge you make a commitment to that Creator. We, and the Creator, would really appreciate it if you don't cancel your pledge. If you absolutely must, please contact leicsgo@leicester.ac.uk.
What happens if my credit card is declined?
Don't worry. If this happens you will be sent a re-pledge link so you can make sure you have the necessary funds available and then send your gift again.
Can I change my reward selection?
Sorry, no. Creators need to be able to manage the quantity of their rewards so changes could cause problems for them. You can make another pledge if there is a reward you particularly want.
Can I get a reward if I live outside the UK?
Yes. But sponsors are encouraged to select a higher pledge level to counter the postage and packaging costs incurred in the process of sending rewards overseas.
When will my reward be delivered?
If a project is successful, your reward will be delivered around the approximate delivery date stated on the Creator's project page. If you would like more information, you can contact the Creator directly through their profile or project page.
What do I do if the rewards haven't yet been delivered?
The delivery of rewards is a tough part of the process for Creators, especially where there are large numbers of rewards to send out or they have problems with the organisations producing their rewards. Please be patient! Hopefully, they will communicate any problems to you and we ask for your understanding here. If you wish to inquire further, you can contact the Creator directly through their profile or project page. If you have not received your reward and have not heard from the Creator, please email leicsgo@leicester.ac.uk and we can investigate further.
Can I trust Creators to deliver projects as promised?
It's up to the project Creator to make the case that they can successfully bring their project to life. In many cases, you will know the project creator or will have heard about the project from a trusted person. Obviously, in these cases, you will have fewer problems of trust. All projects are checked and approved by staff at the University of Leicester before going live on the site, and part of the Creator's job is earning the trust of sponsors, especially those who don't personally know them. Still not sure? Ask the Creator a question via their profile or project page. At the end of the day, we leave it up to your judgement. If you spot anything you think looks suspicious, there is a button on every project page where you can report suspicious projects.
How can I get more info about a project?
Ideally, all the relevant information will be provided in the proposal and video. If you want to know more, you can contact the Creator directly through their profile or project page. If you have already sponsored a project and you would like to make your question public, you can post a comment on the project. The Creator will be notified by email when you do.
Does the University of Leicester or the Creator keep any data about me?
Creators and student groups will keep your data only for as long as it takes to deliver your reward, and are strictly forbidden from using your data for any other purpose including future fundraising requests. The University of Leicester do not process your personal data for any reason beyond what is necessary to administer and maintain the LeicsGO platform. The exception to this is if you tick the box indicating that you are an alumnus of the University, in which case your support will be noted against your record on our Alumni database. Please see our full privacy policy for more information on how the University of Leicester processes your data.
​
Back to Top